"The world is a great book,
of which they that never stir from home read only a page."
This week I am thankful that our trip to Seattle, Washington (pictured above) and Portland, Oregon (pictured below) is finally here.
We leave today, Thursday, to spend a few days in Seattle and Tacoma, and a few days visiting my aunt, cousins and all their kiddos in Portland. While we are there we hope to check out the Children's Museum of Tacoma, various Seattle
sights, and in Portland we will get to spend two days with family, which will be wonderful.
I have not seen my aunt and cousins since before SC was born, over five years ago, and there are five little ones that I have not met yet. What is most exiting is that they are all around SC's age or just younger, so she will have quite a bit of fun getting to know them, plus the two older girls I have had the pleasure of meeting (though five years ago).
The other thing I am excited about is that SC and I will be listening to the audiobook of
The Hobbit on the way to and from Portland. I have never read anything by J.R.R. Tolkien, but I did enjoy the Lord of the Rings movies, so I thought it might be worthwhile to listen to The Hobbit while we drive, since the movie is coming out soon.
Traveling in the upcoming months? Where are you going and what are you looking forward to doing? Leave a comment, then check out some other Thankful Thursday posts: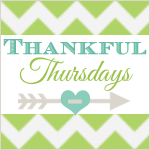 **This post contains affiliate links. Please read my disclosure statement.