"None of you are going to die
and you're obviously not dead."
Holly Black and Cassandra Clare, The Iron Trial
Book #1 in the Magisterium series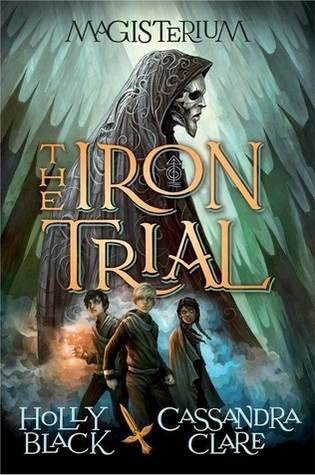 Having recently reread the entire Harry Potter series with SC, I was slightly skeptical of how good another book about a boy who just finds out he is magic and goes off to a special school would actually be. J.K. Rowling has set the bar pretty high. However, other than a few similarities (which would probably be present in ANY book about magical kids going to magic school), this book is it's own story.
Callum Hunt is a twelve-year-old boy with a physical disability who has to go through the "iron trial," an entrance exam of sorts to the school of magic called the Magisterium. His father, who was a mage and went through the school, encourages Callum to do all that he can to fail, because he believes the Magisterium is a terrible place, fraught with death and war. He points to the fact that Callum's mother died just after his birth, because of a war brought on by the mages, as proof of this idea. Though Callum does his best to fail, he is still chosen to be an apprentice by the same master who taught his mother and father, along with an orphan boy, Aaron, and a girl, Tamara. Callum's father fights to take him away before the mages can gather them to leave, but is hauled out of the building, and Callum is taken on to the school.
Black and Clare create their own world, with their own set of magical rules, and in some cases delve where Rowling does not dare, complicating the good vs. evil narrative in fascinating ways. For example, one of my (and SC's) favorite parts of the story is when Callum finds a wolf puppy in the woods. This is just after a huge battle with "chaos ridden" wolves, ones who have been infected (for lack of a better word) with chaos magic, the dark and potentially evil magic that "devours." Callum cannot help himself in rescuing this potentially dangerous pup, because he knows what it is like to grow up without a mother, and the pup (later named Havoc) not only brings Callum and his fellow apprentices closer together, but shows them all that there may be more to the magical dark area than the simple dictate "chaos wants to devour."
All in all, this is the perfect series for us to follow up a reading of Harry Potter. It is HP on steroids, and both SC and I are now firmly enveloped into the Magisterium world. We cannot wait until the second book, The Copper Gauntlet, comes out next September.