"The people who walk in darkness
Will see a great light;
Those who live in a dark land,
The light will shine on them."
Last year we began celebrating the coming of Christmas by using a traditional chocolate-behind-the-flap advent calendar, though it did have the story of Jesus' birth written on the back of the flap. Each night before bed, AC or I would read all the previous flaps up to the new one, and then SC would get to eat the candy. This year, however, I wanted to do something a little more. I love that some of the advent calendars still print the Christmas story, but I really want SC to understand how big a deal Christmas is, and why Jesus being born is so important.
So, after some research (and noticing on a few blog sidebars), I found Truth in the Tinsel, an ebook by Amanda White. We have only done two days so far, but I already love it. It has simple crafts that are quick to complete while I read the Bible verse, and it gives some great hints as to how to talk about specific things with SC. I am going focus on what we are talking about and working on each day, so look for our Advent 2012 posts every few days!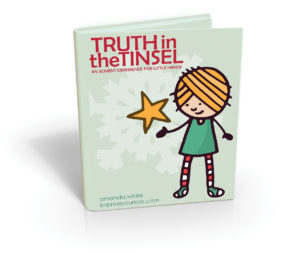 For Day 1, we read from Isaiah and talked about how Jesus is the light come to overtake the darkness. After reading the passage, I had to give a bit of backstory to remind SC of Genesis and the fall of man, and explain that Isaiah was a prophet and though he lived before Jesus was born, he was proclaiming that Jesus would come.
We made a cute light ornament from tissue paper and construction paper.
We also happened to have scented candles burning in the room, and SC requested we turn off all the lights so we could see what it was like to have the candle illuminate things instead.
For Day 2, we reread the passage from Isaiah, but this time we talked specifically about what it meant to be a king, who kings were, and how Jesus is the King of Kings. Fittingly, we made a crown ornament.
Currently I have these two ornaments hanging on an as-of-yet undecorated tree, but I think I will move them to a spot under our long bar-height counter that faces out toward the living room so that we can look at them in order. Also, for those who are worried my child is missing out, I did buy the chocolate advent calendar too and SC has been getting a candy after we complete the craft.
Do you have any family advent traditions? Share them below!
**I am not an affiliate of Truth in the Tinsel, nor have I been asked to review it. I am not being compensated in any way for using this product, including, but not limited to, receiving a free copy for review purposes. Please read my disclosure statement to learn more about my affiliations.